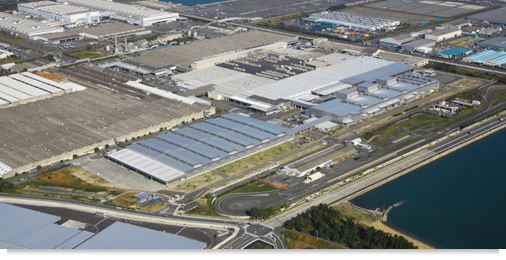 Nissan Shatai Kyushu, which commenced full-scale operations in January 2010, is the latest plant of Global Nissan. It is located in the Kita Kyushu region, where many automobile and parts manufacturers have established themselves, and which offers major distribution advantages to the Asian region that is experiencing dizzying progress and development.
Nissan Shatai Kyushu is located in Nissan Motor's Kyushu Plant. It is composed of a Body Shop, Paint Shop, Assembly Shop, and an Office Building functioning as the headquarters of Nissan Shatai Kyushu.
This plant has adopted the Renault-Nissan Alliance Production Way (APW) to deliver the quality required for the Infiniti brand and other luxury models, while realizing thorough efficiency and significantly shortened production lead-times that are the pride of the industry.
The plant boasts cutting-edge production lines capable of mixed production of multiple models, ranging from compact cars to large high-grade minivans, as well as its attention to people and the environment.
Company Profile
Corporate Name:

NISSAN SHATAI KYUSHU CO., LTD.

Incorporated:

May 10, 2007

Capital:

10 million yen
(Nissan Shatai holds 100% of the shares)

Employees:

1,116 (As of March 31, 2021)

Business Areas:

Manufacture and sales of vehicles and
partly-finished car parts
Offices & Plants
The Headquarters:

1-3 Shinhama-cho, Kanda-machi,
Miyako-gun, Fukuoka, 800-0321

Tel:

+81-93-434-9645
Executives
Directors

President (Part-time)

Haruhiko Yoshimura

Senior Managing Director

Masahiro Takagi

Director (Part-time)

Wataru Takayama

Director (Part-time)

Toshiaki Higashi

Statutory Auditors

Statutory Auditor (Part-time)

Toshikatsu Hamaji

Statutory Auditor (Part-time)

Yosuke Sato