Shonan Plant

■Techno Center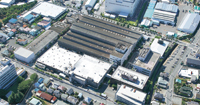 The Techno Center is the base for our Development Division, which is responsible for designing and building prototypes. It also acts as the base for the Tool & Machinery Engineering Division that designs and manufactures production facilities.


■Hadano Office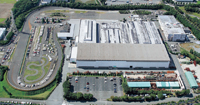 The Hadano Office in Hadano City comes with a test course and other testing facilities, and carries out a batter of strict tests to check on all aspects of cars, including car body strength and endurance.


Through the accumulation of technology over many years, the Shonan Plant is engaged in vehicle manufacturing with a focus on light commercial vehicles (LCV), an indispensable product line-up even though their production scale is small.
Monocoque cars (such as passenger and commercial cars) comprise a unified structure that combines the frame and the body, while frame cars (such as SUV and trucks) are assembled by mounting the body on a strong frame. Due to the structural differences, the production of both types of vehicles on the same line is fraught with difficulty. By realizing this difficult task, we have achieved the efficient production of high-quality cars on a compact line. Currently, we product six models: NV200 Vanette, NV200 Taxi, NV150 AD, Patrol: Y61, Patrol pickup, and Armada.
Furthermore, the Shonan Plant has achieved significant advancements in this high-mix, low-volume vehicle production system, and now plays the role of a "mother plant." In this capacity, it provides vehicle-manufacturing knowhow for models including the NV200 Vanette, to overseas plants. In starting the local production of NV200 vehicles, Nissan Shatai engineers and technicians played key roles in local development and production in China, Spain, and other parts of the world.
We are also injecting effort into the specially-equipped vehicle business. For the development of the compact pickup truck "Patrol," we study local needs, feed the points of improvement back into the design, and carry out production immediately at the Shonan Plant. This commercialization process is achieved through speedy and strong inter-departmental collaboration that only Nissan Shatai is capable of, and represents our efforts to further improve the product capability of our existing cars.
Going forward, the Shonan Plant aims to pursue all possibilities in manufacturing while playing on our strength of the high-mix, low-volume vehicle production system. We will not become complacent, but will continue to aim for the highest levels of technology.